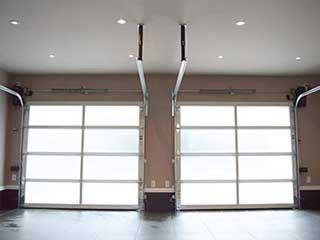 If a garage door spring breaks unexpectedly, your planned day can experience a big obstacle. Keeping the door in that state for long is not a good idea. But you probably don't have a replacement spring lying around, right? And even if you did have one, trying to install it yourself can lead to very serious injuries. But the good news is that you have a local source for emergency garage door spring replacement near Orange. With quick assistance from the professional technicians, you can resume your plans with the garage door back in order.
Dangerous Broken Spring Repairs
Though some may not be aware, the garage door springs are actually the main muscle of the whole system. Sure, the opener engages the opening action, but the springs are what make it go smoothly by utilizing the weight to produce a tension-based force that helps lift the door. As a result of this work stress, garage door springs can be dangerous when fiddled with. The process of replacing broken springs or installing new ones is something you should always use experts for. Every year, many homeowners get hurt by DIY garage door spring repairs, simply for lacking the experience and skill needed to complete this task safely. We encourage all Orange area garage door owners to use our expertise for broken spring replacement help whenever they need it. Save yourself both the time and the effort, and avoid the very real risks.
Garage Door Springs Replaced Fast For Orange
From big to small, from torsion to extension, whichever type of garage door springs you have, our professionals can help with replacement and repairs. With our affordable service rates and daily solution availability, you can always get broken springs replaced for cheap. Our technicians have over ten years of experience fixing and installing these parts, and we put your safety and time above everything else. Reach out to Garage Door Repair Orange whenever a problem arises to get the quickest solution at a fair price.