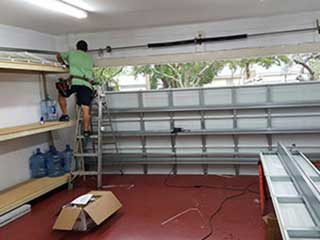 When problems strike, you need a quick solution to make sure it doesn't throw your whole day in for a loop. A garage door problem can manifest in all sorts of ways, affecting different parts of the system. The spring can weaken and break, as it certainly will eventually. The cables can become frayed, snapping, or snagging on something. Cables come off the drum occasionally too, hindering the garage door's movement. And then you've got more complex issues like the garage door opener not running or opening the door. Whatever the reason, and whichever part's involved, Garage Door Repair Orange has the nearby technicians to assist you with any issue, any day of the week.
Problem With The Tracks and Rollers
Your system uses designated travel infrastructure to open and close smoothly. Bent garage door tracks, rollers that pop out, and misalignment can all make the opening and closing process difficult. We repair garage door track damage and replace rollers for Orange area customers and nearby territories too. Broken or bent, we'll replace or repair your garage door tracks to ensure smooth travel without a hassle. Noisy garage door rollers can use some lubrication if made of metal, which will help the whole system perform more quietly.
Broken Spring Replacement – Orange Garage Doors
Some problems demand an immediate reaction, or at least for repairs to be carried out as soon as possible. With a broken spring, your garage door no longer has full support and counterbalance for the panels. Obviously, that's not a good thing. And it's a bad idea to open a garage door with a broken spring. To avoid having to wait forever for service, or to pay hand over foot for a new garage door spring, we offer our low cost, high-quality repairs! When you've got a broken spring that needs replacement, our emergency garage door repairmen near Orange will quickly provide and install a new one. With springs on garage doors, you want to let professionals handle the replacement and installation process. Broken garage door springs, and even new ones being installed, can be dangerous. So leave it to the pros!
Get Your Garage Door Fixed Today!
No need to wait and waste time out of your day. The expert technicians at Garage Door Repair Orange can help with all troubles you may experience. We come loaded for bear, with replacement garage door parts ready to install. This includes springs, cables, rollers, and more. So when you've got the need for garage door repair services, call us and get help from the nearest professionals!