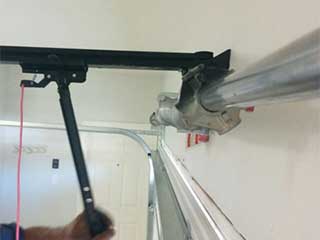 There are many potential signs that something is wrong with your garage door or its opener.
Whether it's opening slowly, getting stuck halfway, or beeping and squeaking during operation, something is clearly not right. Sometimes, however, a problem can exist for a while and you'll be so used to using your garage door without thinking you might not even notice it. That's why it's a good idea for you to take the time every so often and test out your garage door and its various parts to make sure everything is in good shape.
Check the Track and the Rollers

One common source of problems with automatic garage doors is a dented track. This can make the door slide off and potentially even collapse. You should inspect the system's tracks to make sure they haven't gotten bent or misshapen. Another thing to inspect is your rollers. Sometimes accidentally bumping your door with your car can force these components out of their intended location. Such a scenario can prevent your garage door from functioning properly. Make sure your rollers are properly positioned. You can even operate your door a couple of times just to make sure.

Examine the Springs and Cables

Excess weight, old age or even water damage can lead to a broken cable. When that happens, you'll need professional assistance. Cables are integral to the proper function of your system, and when they break or become frayed your garage door won't function properly. Similarly, if a spring has snapped, detached or lost its tension, your door will likely tilt and may even become inoperable. Once you realize the issue is with the spring, you should take great care. These components are highly dangerous and should only be handled by professional technicians.

Check Your Panels for Signs of Damage

Bent, torn or otherwise damaged panels can prevent your door from moving properly. This can create noise, as well as hinder the function of your opener. In some cases, replacing the damaged panels is possible, especially when it comes to sectional garage doors.

Whatever You Find, Contact an Expert

Should you find yourself in need of professional assistance, be sure to contact our Garage Door Repair Orange technicians.