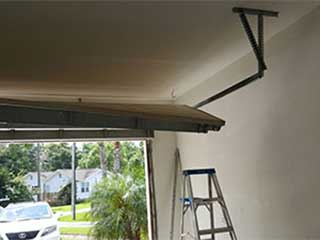 Garage doors may play very important roles in our homes with regards to security. However, they can be damaged regularly by a number of factors. These factors could be bimetallic corrosion, dryness, small accidents, or abrasion. Whatever the cause for the damage, our team of well-trained repair experts is on standby to help you. Read on to see more of what we offer.
Replacing Springs and Safety Cables
If your springs or cables are bad, it can make it tough, if not impossible, to use your door. In addition to being a nuisance, it quite unsafe to a damaged door, here's why: springs help support the structure of the door and at the same time the safety cables serve as a backup should the springs fail suddenly. If yours have been giving off signs of trouble, give us a call to have them repaired or replaced.
Garage Door Metal Rails
If your door proves difficult to open and close, the issue could be as a result of bends along the length of the metal rails. This kind of problem most likely results from blunt force applied to the door, like when the door is accidentally hit by a vehicle. If you notice small spaces between the rollers and tracks or if the rail is distorted along any point on either side, it's an indication that there's a problem at hand and this could further weaken the condition of the rails. Give us a call if you are in need of repairs or any of its related components.
Getting your Door on Track
If your garage door opener is faulty on its insides due to wiring issues, our team would be happy to help you fix it, or even replaced if it's necessary. In some cases, this could mean that a repair or replacement is in order. Whatever the case, we will work to make sure that it doesn't repeat.
Call Us for More Information!
For further details on how our technicians can assist you with all manner of garage door repairs, contact us today!
In addition, we offer:
Part Replacement & Lubrication
Belt Drive Garage Door Openers
Oil Tempered Torsion Springs
New Garage Door Installation