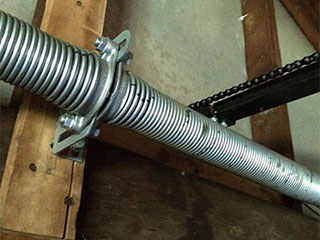 When you press your garage door opener and it smoothly opens or closes, you don't often think about all the vital parts involved in its operation. Although they aren't part of the opener itself, your garage door springs are, in fact, the ones responsible for making sure your door opens and closes smoothly.
What are Springs?
First things first, if you suspect you are in need of spring repair, you need to call our professionals right away. Broken springs and those on the verge of breaking are actually extremely dangerous, and you shouldn't operate your door under these conditions. They are under an enormous amount of tension, and the risk of injury or property damage is great.
The springs' job is to counterbalance the door's weight, which means they must be perfectly matched with your particular door.
What are Torsion Springs?
These can be found on top of the door and either on top of or inside a metal shaft. Again, these particular springs are responsible for balancing the weight of your door while it's opening and closing. As opposed to extension springs, the torsion springs twist and unwind in order to create the energy required to pull a door. They are considered stronger and safer to use, since due to the nature of their action they are far less likely to go whipping around your garage if they snap.
Whichever type you have, springs are extremely dangerous to handle without the proper training. That's why you should always leave any repair or replacement work to the professionals. Our professionals.
Call Today
When your springs start acting up, it's always wise to call our Garage Door Repair Orange technicians. Even if you're not sure springs are the culprit, it's a good idea to have a professional take a look at your system. Our guys and gals have all the right tools, the extensive wealth of knowledge, and the best replacement parts that make broken spring repair safe, fast and easy.
But wait, there's more! We also offer:
Maintenance Garage Door Torsion Spring
Door Opener Troubleshooting Services
Broken Garage Door Spring Replacement
Broken Garage Door Track Repair